John& Bill Gilbert Guitars,by James Hunley. William Gilbert Guitars 805-239-9080
John Gilbert
A great master builder and
a blessing to the guitar and his many lucky friends!
An early photo of John but he looks the same today
From James Hunley.
I spoke to Bill gilbert and he has openings
for Guitar order and requests.
His Guitars are amazing!
I have decided to switch over to his Guitar,
James Hunley.
Bills email is wgilbert@surfari.net

John Gilbert, Guitar building Maestro is
80 and going strong.
John M. Gilbert
was born in New York in 1922.
His ability to make constantly amazing guitars
has baffled many luthiers.
He began building in 1965 and turned over the
craft to his son Bill around 1997.
John was the chief tool engineer at Hewlett-Packard.
He has an extensive knowledge of building and a mathematical mind that has amazed myself and many
of the guitarist that do the pilgrimage to John's
shop.

During the 1980's it seemed that ever major Concert artist played Gilbert's.
The problem arose that his guitars took a month or more to craft and the list of clients extended
beyond 23 years.
This also lead to three other serious problems.
The first problem was the demand drove the price
for a used Gilbert guitar
at least (although I knew of people paying ) above the price for clients who were getting their guitars from John's waiting list in their chronological ordering.

The second problem is that many guitar professors
were not getting preference above regular folk.
John always wanted to have his Guitars available to the young concert artists who could not afford
an overly expensive instrument.
There fore John would listen to many virtuoso guitarists
who were concertizing and would come courting at his shop (in the mountains near Stanford)
to try and get moved ahead on the list hoping o get a guitar in a year or two.
John sold a few guitars out of chronological order
to some concert artists and this outraged the "professionals" who did not get their guitars first.
I personally knew one who began to speak ill of
John's sons guitars after being passed over for an
immediate guitar (not that anyone got one without a wait).
IT WAS GETTING UGLY!
The third problem was a simple fact overlooked by
many guitar player investor and enthusiast.

THE GILBERT'S ARE PEOPLE OF THE HIGHEST INTEGRITY!!
When people got Gilbert guitars and sold them within a month to pocket the money and tried and tried to get back on the list
John and Bill said, sorry you will not get another Gilbert guitar.....
They were mad .
John wanted to keep the price down for the young player coming out of school who desperately wanted
his guitars but could not pay over market demand.
Meanwhile other guitar builders were offering
guitars for little or no money to Concert artists
to get their guitars played.
They were fine with an artist playing one concert and then selling the guitar and playing a new one
to sell that one .
It is a good business and it gets their guitars
heard and sold and little gets some "artists"
more excited than to add a few thousand dollars to
their pockets from playing a mediocre guitar in public for a little while.
But back to John.
The price was the price period.
The list could be modified but slightly
but John was not about to or did he need to, give guitars away or give a "finders fee".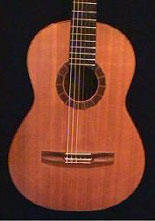 A brief note James visited with John in Augustof 02 he is as strong as ever. His age is a mere number!
For more about John Gilbert and Manuel Velazquez
go to
www.classicalguitartechnique.freehomepage.com
You will have to sift through the adds first.
(sorry)
Choosing Face Wood

By John Gilbert

Very often I hear or read in print information about face wood, which I know from experience to be incorrect. This misinformation usually pertains to the claim that quarter-sawn wood that shows wood rays is highly superior to wood that doesn't showsuch rays. This just isn't so. In fact, most of my guitars don't show wood rays (or silk as itis sometimes called), and I have never found a bit of difference in the sound qualities of wood with or without silk.

Oh, it might look better, but I put more emphasis on sound and solid construction than I do on appearance. Don't misunderstand me; I"m not trying to build an ugly guitar, but the fact is an audience hears a guitar when they can't tell for sure who made it. So what I stress in the wood I select is that it have no grain runout in the sound producing area (i.e. in the area below the sound hole). If there is a slight runout, I try to place that part of the wood toward the neck where it doesn't matter much and where the change in color caused by light reflection is less noticeable because the fingerboard and rosette separate the face halves.

Another fallacy I often hear is the claim that if the grain isn't the same width all the way across the board it won't make a good guitar. My own experience tells me otherwise. I have made guitars out of wood that other makers have rejected because of this feature. The guitars have played fine, in fact, in many hundreds of concerts throughout the world.

Consequently, do yourself a favor and consider these three features when selecting wood for the faces:

How much will it weigh when it is brought down to final thickness?
How much strength will it have?
How thick will it be?
In short, don't worry about wood rays and uneven grain. Many guitarists are told to look for this silk and fine grain in any instrument they buy, and this is pure nonsense. What is far more important is the sound quality of the guitar.

John Gilbert is a well known builder of classical guitars. John now devotes his time to the production of his line of tuners while his son William continues the Gilbert tradition of high quality concert guitars. Gilbert guitars have been used by David Russel, David Leisner, George Sakellariou, David Tanenbaum, Frederic Hand, Earl Klugh, Raphaella Smits, and many others.




Gilbert Tuning Machines


--------------------------------------------------------------------------------

Engineering features of Gilbert tuning machines:

Precision phosphor bronze roller gear to eliminate backlash and reduce wear with long life.
Precision stainless steel worm to eliminate backlash and reduce wear with long life and freedom from corrosion.
Worm carrier slide molded with polyphenylene sulfide and Teflon mixture for precise tolerances and lubrication.
One piece machined roller gear and shaft eliminates gear retaining screw and lash in gear to roller shaft connection.
Delrin rollers for durability at roller to plate interface and at wood to roller interface.
Mounting plate has Delrin bearings for roller shaft to eliminate lubrication with long life.
Worm carrier slide design allows adjustment of gear train as machine wears to eliminate worm endplay and worm to gear backlash.
Worm carrier slide design is reversible allowing simple renewal of worm bearings if ever required.

--------------------------------------------------------------------------------

Gilbert tuners are no longer made by John, but by his son-in-law, Greg Matonis. Greg is a highly skilled machinist and is well qualified to take over the business.

Ordering Info:
Gilbert Tuners
Greg Matonis
2440 Bay Road
Redwood City, CA 94063
E-Mail:gmatonis@earthlink.net
Phone/FAX: 650-364-6677
Standard price for Black tuners


William Gilbert Guitars 805-239-9080 wgilbert@surfari.net
John and James about 11 years ago