Hunley Guitar Studio Events


WILLIAMS, Ariz. - Tunes from the 1950s and '60s might represent what Route 66 is all about, but on Aug. 4 experience a different kind of sound when renowned classical guitarist James Hunley takes the Sultana Theatre stage.

With a studio based in Los Angeles and concert tours that take the 48-year-old all over the world, life can get a little hectic. To return to a more spiritual balance, Hunley and his students retreat annually to the Grand Canyon. This year however, the group has decided to base themselves in Williams.

"We are bringing up about 22 people to Williams this summer," Hunley said, who considers the small mountain town the most beautiful in the world. "We've stayed at the El Tovar a couple times and we actually like staying in Williams better, it's just a lot more fun. The restaurants and the people are so nice."

American Flyer Coffee Shop owner Donya Hadder met Hunley back in February and, after seeing the stage inside, asked if he could set up some kind of informal recital. Hadder, excited about the possibility of bringing classical guitar to Williams, helped him book the Sultana Theatre.

"He was just walking around downtown, stuck his head in and said 'this place is awesome,' she said. "He liked what the Flyer was doing in trying to bring in local artists and just at the time there were a whole lot of high school students in here playing the guitar, and he thought that was really cool and liked the community feel."

During the recital at the Sultana Theatre, Hunley will play top 40 classical guitar pieces. In other words, contemporary compositions that have made the instrument famous.

"The whole program will be filled with those types of pieces," Hunley said. "Also, I have almost a running dialogue with the audience so it's very fun. I spend a lot of time just chatting about pieces or sharing antecdotes. It's like classical guitar with humor."

The next day at 11 a.m., Hunley's students will play an informal recital at American Flyer Coffee Shop. If you go, you'll hear similar pieces to what Hunley played the night before, along with some classics.

"When I say students, there are no young people really, but most are actors, business people, computer programmers," he said. "They'll be playing pieces that they've been working on, all pretty accessible pieces of music."

At 13-years-old, Hunley became passionate about the guitar. He said he would begin practice at 4 a.m. and pick it up again after school, playing late into the evening.

While his family was living in San Angelo, Texas, the young Hunley performed in local restaurants where several patrons took note of his performance. One patron, the Hal Noelke family was so taken by his playing that they offered to sponsor his future studies.

At the San Francisco Conservatory of Music, he gained a foundation in music technique, an aspect he would continue to explore and develop the historic techniques of the classical guitar masters. Over the years, he has woven those techniques into an individual style and interpretation.

According to Hunley's website, a strong affirmation of Hunley's technical prowess on the guitar came years ago from Luthier John Gilbert, whose guitars are among the most sought after in the world. The waiting list for a Gilbert guitar is over 23 years away, but Hunley's impressive playing skill secured a guitar after just one.

Presently, Hunley divides his time between performing and television/recording production.

Hunley has hosted three seasons of the U.S. television shows that both instructs and communicates the internal dialogue of acoustic music. His second solo CD is now in its second pressing.


We will be The canyon motel meeting rooms.
Welcome to the Canyon Motel &
GPS: The Canyon Motel QR Code
Lat 35'15'28.89"N
Long 112'10'15.75"W RV Park in Williams, Arizona
You really can escape from the ordinary when you stay with us! We have many different types of rentals, and each one is truly unique. Our landscape is unique too, located in the mountains of Northern Arizona and just 60 miles south of the Grand Canyon.
The Canyon Motel & RV Park is on 13 acres in the town of Williams on historic Route 66. We're surrounded by the world's largest Ponderosa Pine forest and have great mountain views. We're a few blocks away from restaurants, retail stores, galleries, and Old West attractions.
Folks tell us that our vintage flagstone cottage motel rooms are quaint and comfy. Others come to stay in our authentic, historic Little Red Caboose and railway car rooms and suites. Our Nomad RV rental offers a home away from home as your own private residence. For special gatherings and small events, you'll want to take a look at our Hidden Garden Patio, a special secluded meeting place. If you have any questions at all, give us a call — 800-482-3955.
Students and friends of the Classical guitar are getting together with James Hunley in Sedona and the Grand Canyon in August for a concert by James Hunley, Student concerts, Master classes, and an evening of guitar bingo. ( Winning guitar related prizes) and time to hang out play the guitar and make life long friends.
@ the South Rim of the Grand Canyon and in the town of Sedona Arizona
Rooms up there book fast so plan ahead. call us to coordinate. 323-464-3766
There is no charge to attend the gathering. Everyone with a love for the guitar is welcome to attend.
The requirement is that you are there to support and encourage others. This is a week of friendship and bonding with people who love the guitar and an EGO FREE zone.
We will be taping all who want to play at the south rim of the Grand Canyon in HD for free.
limit to 30 people.
Who is in the James Hunley guitar studio?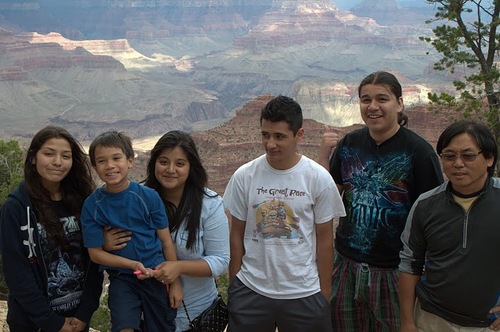 What is the Peaceful Guitar Society? The Peaceful Guitar Society is an organization to assist society by promoting peace, harmony, solitude, spirituality, education and contribution
playing the classical guitar. The group was formed by James Hunley andseveral of his long-time students to promote a better connection between the growing gap between talented, deserving young guitar players and public education's growing opinion affected by budgetary constraints that the arts and music are not very a priority for young people.
The PGS (the Peaceful Guitar Society) provides a bridge to young people who elect to pursue the classical guitar to explore their god given talents in playing the guitar, allow them to develop through guidance, allow them to learn from a supportive community, allowthem to contribute to society by performing in public and give them, if they choose, the tools to support themselves as career musicians or journeyman.
Our Mission...is to contribute to the lives of young classical guitarist by providing learning and career opportunities, unique performance venues, guidance, and financial support.
From TheAcousticExperience.com sales go to support this organization as well as donations from friends. Our Vision is to help people live in a better world by playing classical guitar. We do this by inspiring peopleto join and participate in our communities. We bring guitar performance opportunities to our community by contributing to the less fortunate, the elderly and the ill at nursing homes, rehab centers, assisted living and hospitals. We encourage young people to participate and develop their playing and personal skills by providing travel / performance opportunities that help people improve their self image, confidence, social skills and positive outlook of the world. We also help aspiring artists with musical instruments and financial contributions in the form of college grants for those that aim to improve themselves by pursuing a career in music. We influence young people with a positive, peaceful, spiritual and giving influence.